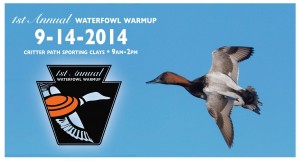 September 14th 9-2 at Critter Path Sporting Clays 3191 Wheelertown Rd  Waterford PA.  Hosted by the Duck Club.
Thank you to all who came out and made this shoot a big success.  We already have our wheels turning for next year.  Possibly a cookout, gun ticket and a few more ideas.  If you have any suggesstions please contact Anthoni and keep this event going.  It was great to get so many like minded wingshooters together in one place.
If you have any ideas or great suggestions for next year contact  Anthoni Rossi via facebook or phone at 814-218-7838  Thank you to all those who made donations of supplies and prizes.  Lake Effect Decoys, North Bay Game Calls, Erie Sports Store, and Herr's Snacks!